Chi siamo >
Lingue >
6color
Polish (język polski)
Polish is a Western Slavonic language with about 40 million speakers in Poland, Lithuania and Belarus. There are also fairly large communities of Polish émigrés in the UK, USA, Canada, Ireland and Brazil. Polish is closely related to Kashubian, Lower Sorbian, Upper Sorbian, Czech and Slovak.
Literary Polish is based on the dialects of Gniezno, Cracow and Warsaw, though there is some dispute about this.
The native name for Polish is polski (Polish), język polski (the Polish language), or more formally, polszczyzna (Polish).
Polish alphabet (alfabet polski) & pronunciation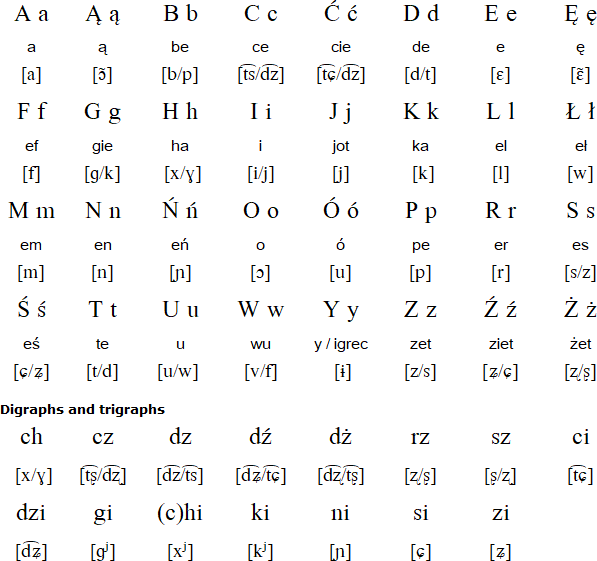 Notes
Polish pronunciation is actually a lot more complicated than shown above.
Notes on pronunciation provided by Grzegorz Jagodziński
Sample text in Polish
Wszyscy ludzie rodzą się wolni i równi w swojej godności i prawach. Są obdarzeni rozumem i sumieniem i powinni postępować wobec siebie w duchu braterstwa.
A recording of this text by Marcin K.
Translation
All human beings are born free and equal in dignity and rights. They are endowed with reason and conscience and should act towards one another in a spirit of brotherhood.
(Article 1 of the Universal Declaration of Human Rights)
Tower of Babel in Polish | Useful phrases in Polish

Polish language learning materials
Links
Information about the Polish language about links to online resources
http://www.polishlanguage.biz
http://www.skwierzyna.net/learn_polish.htm
http://polish-translations.info/about.html
http://en.wikipedia.org/wiki/Polish_language
Online Polish lessons
http://www.apronus.com/learnpolish/
http://grzegorj.w.interia.pl/kurs/
http://languagelearninglab.com
http://www.oneness.vu.lt/pl/
Polish phrases
http://www.polish-translator.net/polish_phrases.html
http://www.meetpoland.com/useful-polish-words-and-phrases.html
http://onestoppolish.com/useful_polish_phrases.htm
http://www.bbc.co.uk/dna/h2g2/A2982314
http://www.linguanaut.com/english_polish.htm
http://www.learnpolishfeelgood.com/travelpolish/index.html
Online Polish dictionaries
http://www.polish-dictionary.com
http://sjp.pwn.pl/
http://www.staropolska.gimnazjum.com.pl
http://www.leksyka.pl/translator
http://www.lexitools.com

Polish Electronic talking dictionaries
http://www.ectaco.com
Old Polish Literature - online texts in Polish
http://www.staropolska.gimnazjum.com.pl/
Online Polish Radio
http://www.radio.com.pl/
http://www.bbc.co.uk/polish/
http://www.abcradio.ca
Gazeta - online Polish language newspaper
http://www.gazeta.pl/
Polishbuzz - a site for the Polish community in Chicago and the USA
http://www.polishbuzz.com
Slavic languages
Belarusian, Bosnian, Bulgarian, Croatian, Czech, Kashubian, Macedonian, Old Church Slavonic, Polish, Russian, Rusyn, Serbian, Silesian, Slovak, Slovenian, Sorbian, Ukrainian
Other languages written with the Latin alphabet
© 2010 MMW S.r.l.
Tel.: +39 0650780789 / +39 065081076 - FAX.: +39 0650797984 - Mob.: +39 3356792461
Indirizzo email: info@mmwtraduzioni.com
Sede legale: Piazza Giuseppe Mazzini 27, 00185 Roma
Sede operativa: Viale Odone Belluzzi 303, 00128 Roma
P.I. e Codice Fiscale: 05994081007